Copyright © Face Painting 4 All Contact |




I have been face painting professionally for over 15 years, both children and adults. I also do graphic design and art work and am trained in teaching English for speakers of other languages and students with learning difficulties.
I use high quality professional face painting products and travel with all the equipment and materials required for any event, indoor or out.
I am experienced at working with people of all types, ages and cultures. Although face painting is very popular with children I also paint lots of adults and teens and can create or adapt designs to suit all requirements and wishes.
I am a good listener and endeavour to match designs to people's loves or interests. I can colour-match my designs to clothes, paint the logo for someone's favourite football team or paint their favourite children's television character. Let me know in advance and I will create designs especially to match the theme of your party.
I am based in Reading but can cover events in Berkshire, Buckinghamshire and Oxfordshire.

My experience covers work for a wide range of public and private events including for:
Reading Borough Council
Wokingham District Council
John Lewis
Tesco
Reading Voluntary Action
Save the Children Fund
Company events
Private functions
Birthday parties
Christenings
Hen parties
Open days
Craft fairs
Festivals
"We've used Cathy's talented face painting for nearly seven years. Her work is easily recognisable by its attention to detail, beautifully crafted in clear lines and colours. The children can't wait to queue for a new design once the tent is up and the brush ready to craft. They're simply the best and she comes highly recommended."
Sue, HR Wallingford
Cathy, thank you for attending the UK Wolf Conservation Trust Open days this year. All the children looked great - it was very professional and you obviously have a real talent and a lot of patience. I was extremely impressed with your hard work and professional attitude. I would certainly recommend you to other event organisers.
Looking forward to working with you again next year."
Victoria Allison-Hughes, Education Officer,
UK Wolf Conservation Trust
"I asked Shannon what was the best part of the partyand she said having her face painted. All I can says thank you for making my daughter's birthday party so special.
Many thanks again."
Katherine, Tilehurst
"Thank you so much. I've recommended you to LOTS of mummies. You were fantastic! Hope to use you again."
Sarah, Henley-on-Thames
"Thank you so much for your wonderful work! Ruby and her friends loved the different designs and you did such a good job! I will definitely be recommending you!"
Pippa, Caversham
"Thank you so much for painting so many works of art on faces, everyone involved in organising the festival was very impressed. You did such a wonderful job."
Neile, Rising Sun Arts Centre, Reading
"Cathy is brilliant at face painting. We hired her for our daughter's birthday. All the guests were full of praises for her work. Would definitely use facepainting4all again"
Digam, Reading
It was a pleasure to have you at the party and the girls looked so beautiful with their faces painted. The designs were exquisite and my friends complimented your work all the time through the party. Great work Cathy!
Sumera, Wokingham
Thank you so much for today. Everyone said your face paints were amazing. Will definitely recommend you.
Clara, Theale
Me and my husband just want to say a huge thank you for yesterday at Scarlet's party. You did such an amazing job, everyone was so happy with it!!
Charlotte, Woodley
Thank you so much for coming and doing such amazing face painting. Definitely will recommend you to my friends.
Bernie, Caversham
Thanks, Cathy, for doing such a wonderful job at Connie's party on Sunday. The girls looked just brilliant and clearly loved having their faces done (and watching one another have theirs done too)! I'll certainly recommend you to anyone who asks for a face painter.
Rebecca, Sonning
Thank you so much for today, the children loved it, and everyone was really pleased with the face painting! Many thanks.
Lauren, Arborfield
Thank you so much for all your amazing work today, you are extremely talented.
Heidi, Tilehurst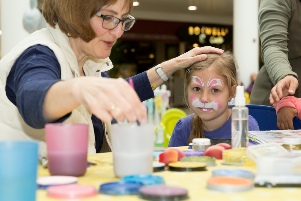 See more